Get good returns, stay connected with your audiences, and build a loyal community without spending hefty fees on renewed WordPress email marketing solutions.
Say hello to Icegram Express - a freemium WordPress email subscribers and newsletter plugin, premium yet affordable.
Our experience with the plugin tells us that it works straight without the fuss. It's easy to use, includes all basics and advanced features, and puts your email marketing tasks on autopilot.
Whether you are a blogger, marketer or running any WooCommerce store - electronics, fashion, hospitality, events, real estate, donations, plugins and themes…this solution won't disappoint you.
Icegram Express is a complete WordPress email marketing plugin, trusted by 100000+ users.
Get all the essentials to do email marketing and reap the benefits:
WordPress email marketing made simple with Icegram Express
We'll cover how you can use the major features of Icegram Express to do email marketing:
Subscription forms and list building
Create and edit subscription forms for any purpose - lead magnet subscriptions, new product launches, or early bird offers.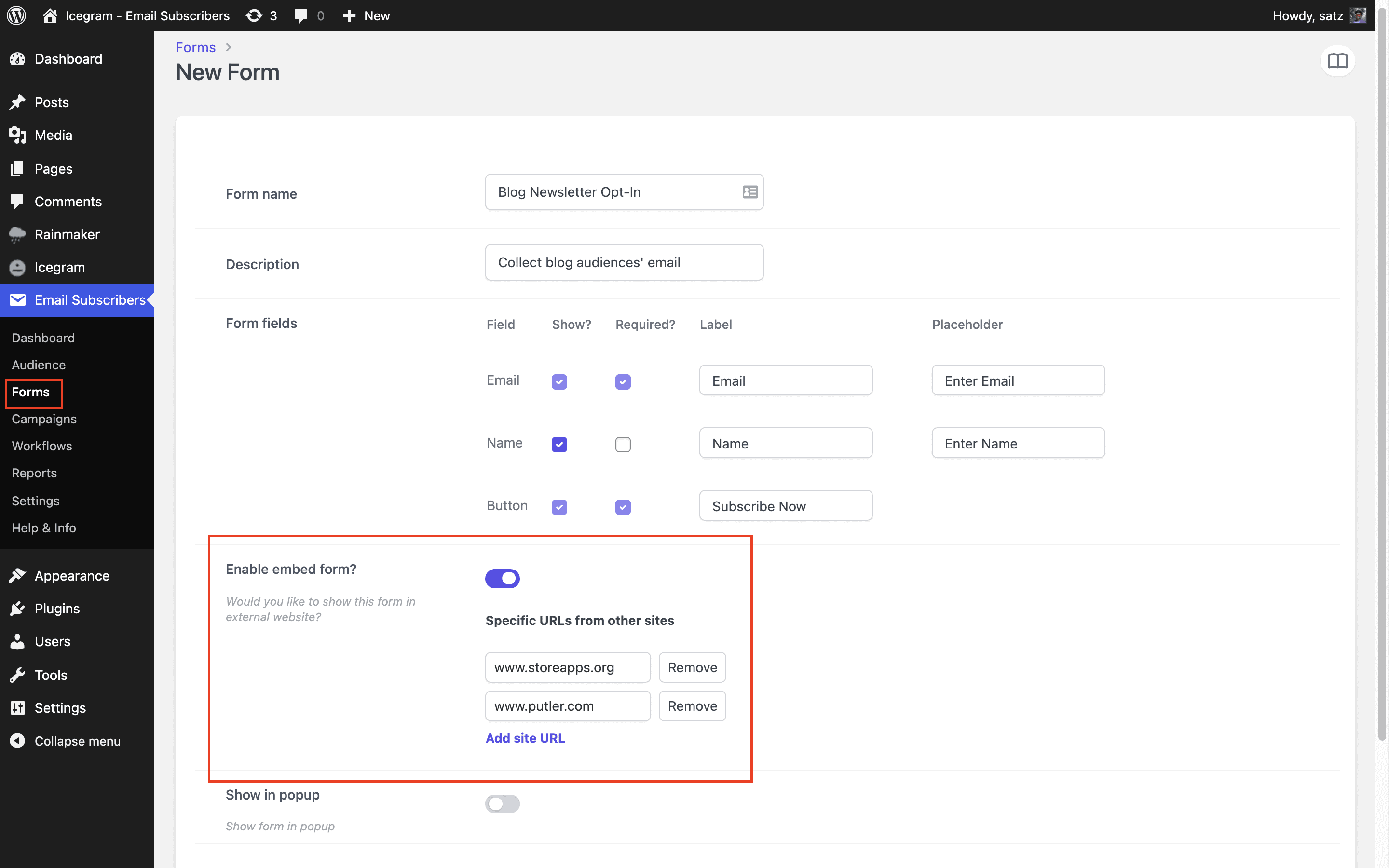 Incorporate captcha and GDPR consent, ensuring the security and compliance of your subscribers' data.
Once people sign up, organize these contacts or leads into different lists and send emails to them.
The plugin also allows you to import contacts from other sources in CSV format and add them to the desired lists.
A list serves as a repository for email addresses acquired through subscription forms, contact imports, or Workflows.
An Audience, on the other hand, represents a specific group of individuals or a designated target list for a campaign. The Audience page encompasses multiple lists, each containing contacts with different statuses.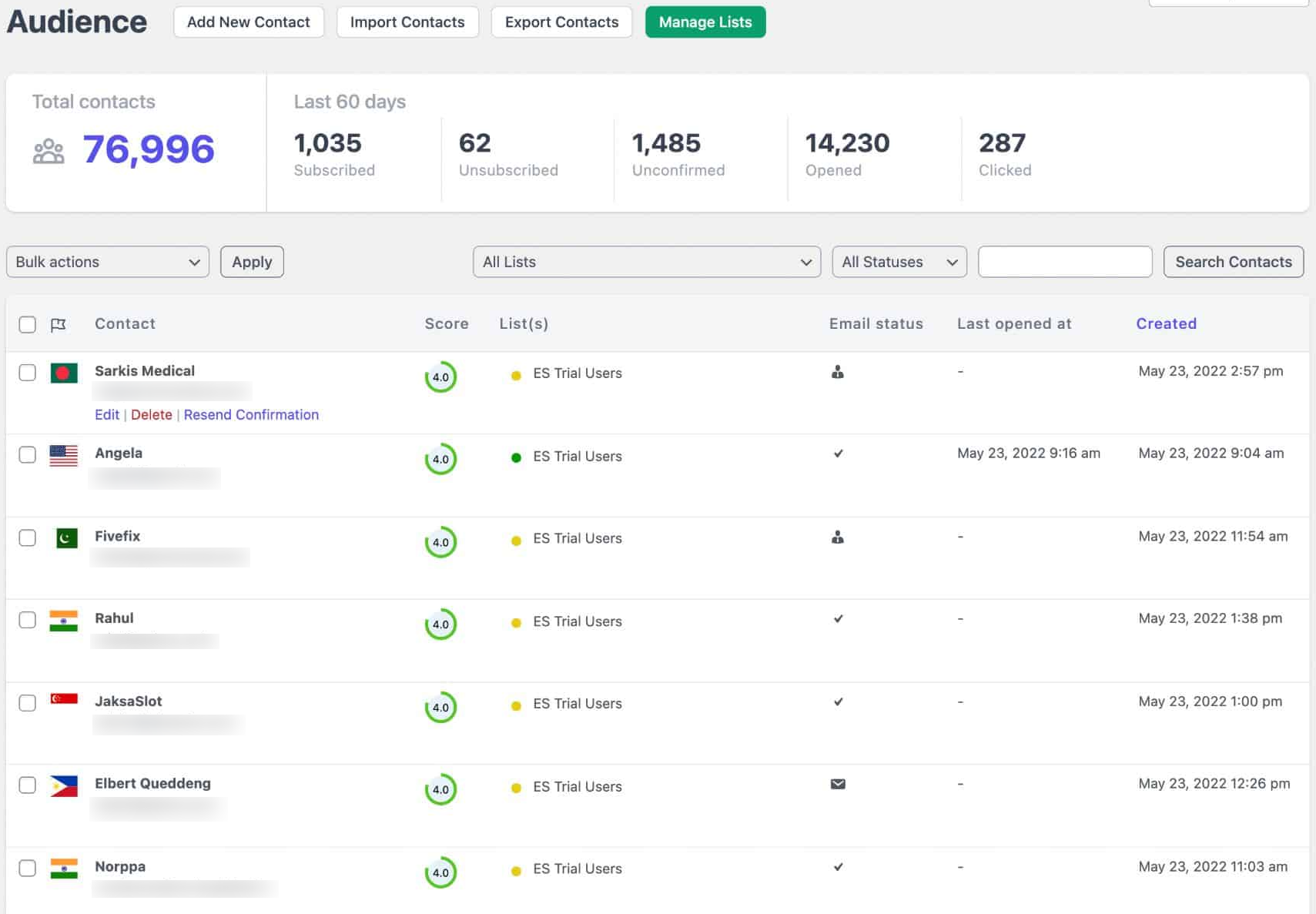 For instance, if you're introducing a new handbag, your target audience may consist of ladies, and you could name the list "New Handbag Launch" to reflect this.
Create an unlimited number of forms, lists, and contacts. Create lists to categorize contacts (move contacts from one list to another) so as to target the right audience while creating campaigns.
This gives you the freedom to organize your subscribers effectively and accommodate any scale of email marketing activities.
Icegram Express also integrates with popular WordPress membership plugins, allowing you to sync your website contacts and engage them via emails.
Workflows help you automate your email marketing tasks. For instance, configure a workflow that adds contacts to your email list when someone leaves a comment on your blog.
Workflows are triggered by specific events, aptly named Triggers. Each trigger initiates a series of predefined actions, enabling you to automate your desired processes.
Designing attractive emails can be a challenging task, but with Icegram Express, it becomes effortless. There are 20 pre-designed templates, allowing you to start sending professional-looking emails without any hassle.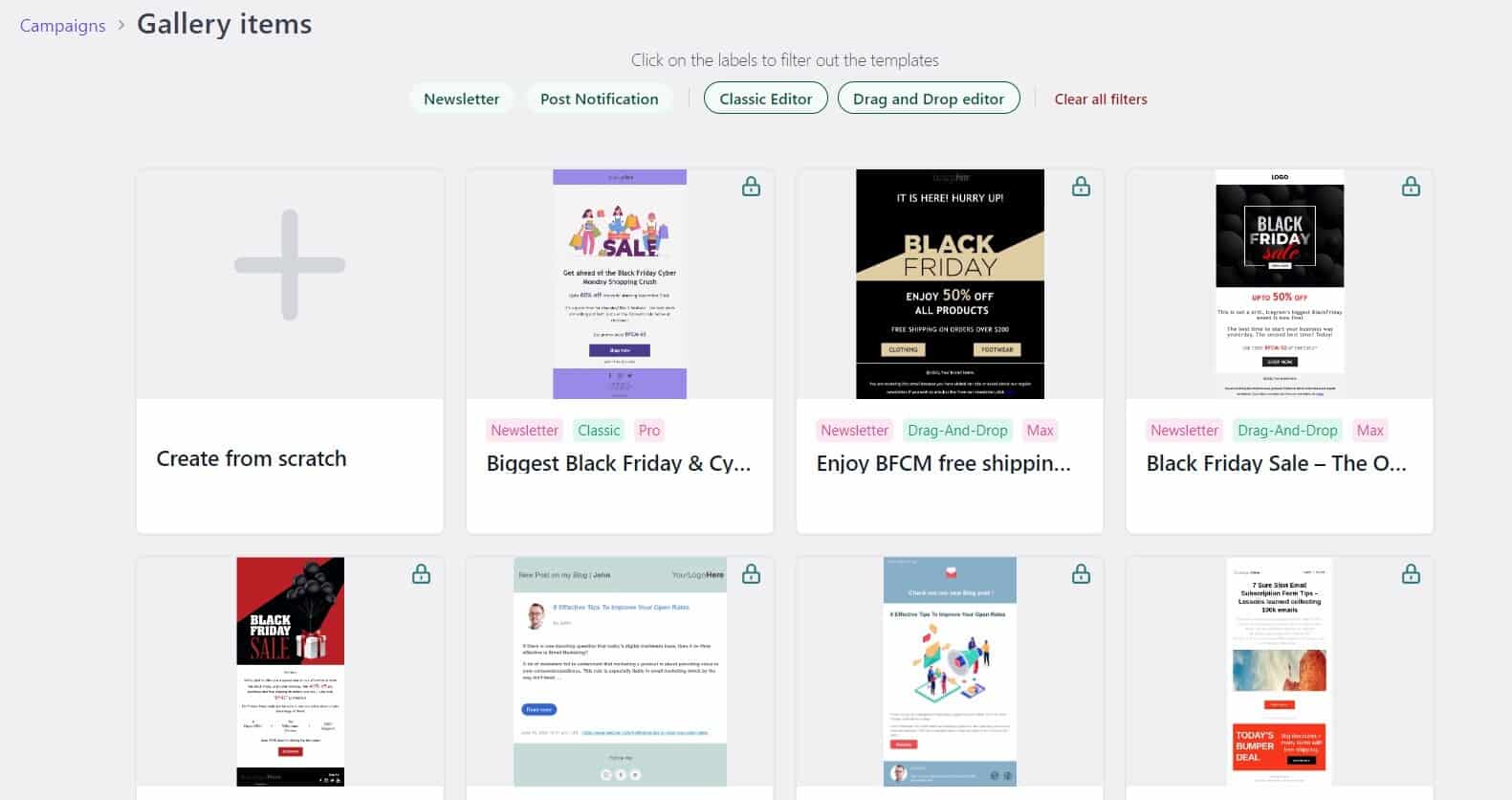 To customize these templates, there's the user-friendly drag-and-drop functionality and Advanced Blocks.
Rearrange elements, add images, buttons, dividers, and text sections to personalize the email to align with your branding and messaging.
An email campaign is the actual email you send to your audience.
A successful campaign has the potential to drive engagement, increase website visits, and generate sales.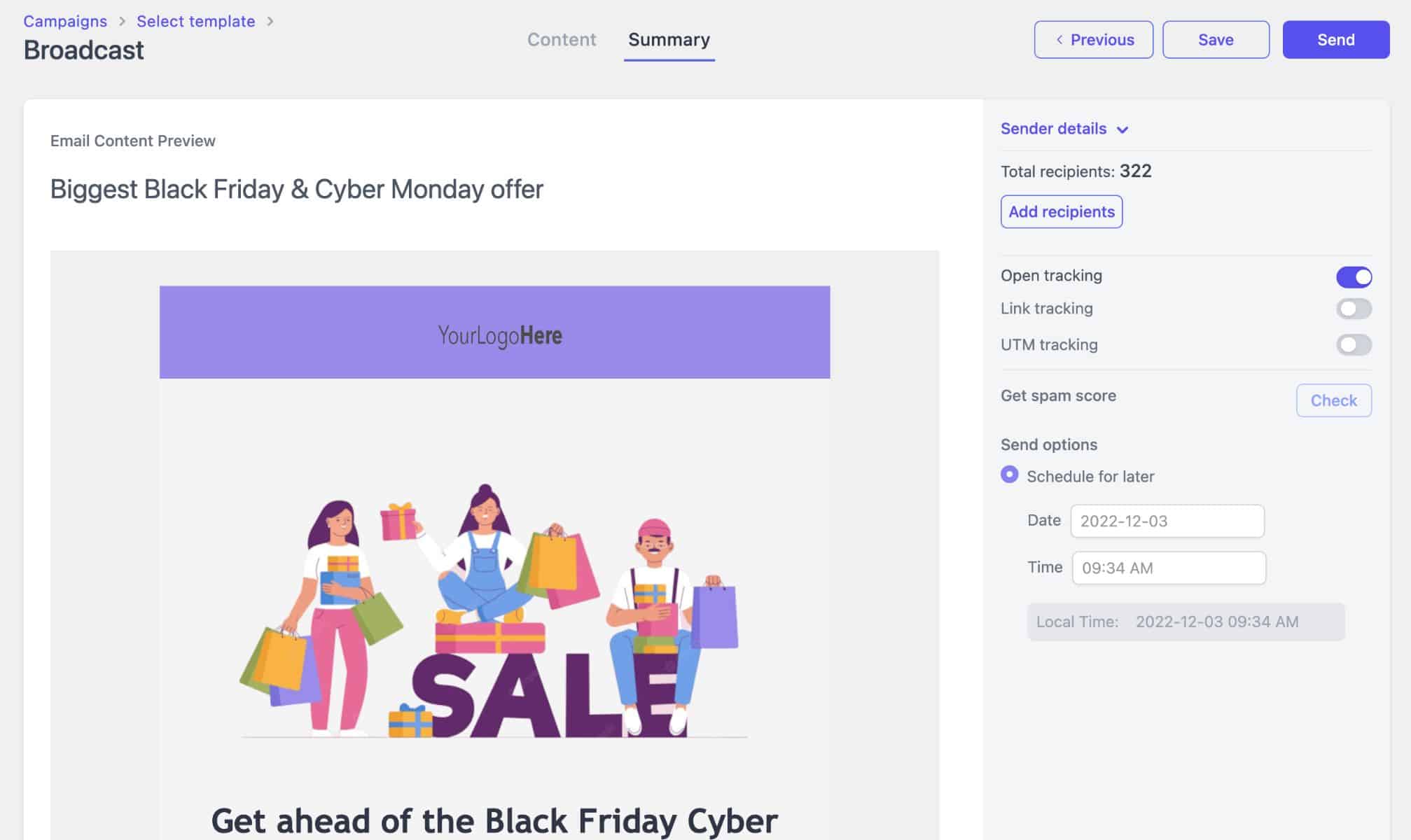 Icegram Express offers four types of emailing features:
Select the desired template, the email type and send your campaign.
Icegram's Email Sending Service (ESS) enables you to send emails directly from your website or blog with ease. No need for expensive third-party email services or complex integrations.
ESS is free and allows you to send up to 100 emails per day at no additional cost. When the 100 email limit is reached, you will revert to your previous email-sending service, with the same settings.
ESS prioritizes privacy and does not collect or process any data.
Alternatively, you can use Amazon SES, any SMTP configuration, WP Mail, Pepipost to send emails.
Icegram Express offers Sequences, allowing you to automate a series of emails to be sent to your subscribers based on specific time intervals following their subscription.
Consider you're running a SaaS company. With Sequences, you can create a well-crafted sequence to guide your users through their journey.
You can set some rules to ensure effective targeting. For example, send the second email in the sequence to the "Main" list, but only to those subscribers within the Main list who have opened the first email.
This way, you can segment your audience and deliver personalized and relevant content to enhance engagement and conversions.
This is more beneficial for WooCommerce store owners whose users abandon the cart.
Carts will be considered abandoned if they are inactive for 10 minutes either by logged-in or guest users.
For logged-in users, the feature activates when they add products to their cart and leave without proceeding to checkout. For guest users, it comes into play when the customer enters their email address on the billing details page but fails to complete the payment.
These users will be sent a cart reminder email to complete their purchase. You can provide a coupon code as well to sweeten the deal.
Spam protection and bounce handling
Bounce handling feature identifies and highlights bounced email addresses (hard bounce & soft bounce) in your subscriber list.
Handling bounced emails protects your domain's reputation and optimizes email-sending bandwidth.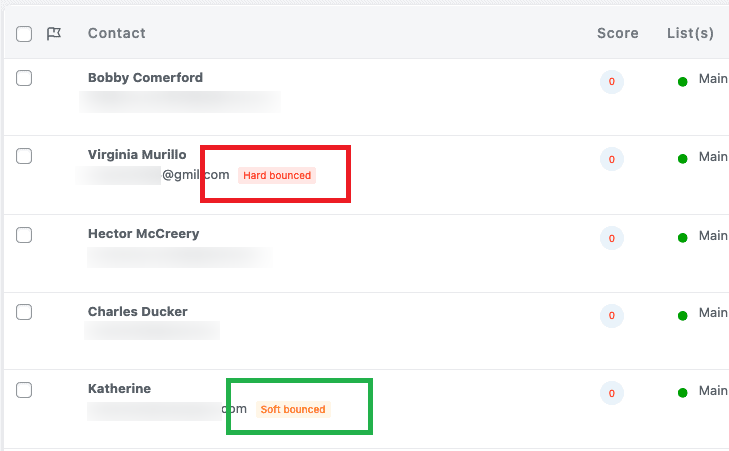 The plugin identifies and marks emails as SPAM if they are not monitored or are non-existent.
On the audience page, Icegram Express provides a powerful filtering feature that allows you to segment subscribers based on their Actions, Status (subscribed, unconfirmed, hard bounced, soft bounced, or unsubscribed) and List and perform bulk actions - delete, add, move, change status.
By utilizing these filtering and bulk action features, you can efficiently manage your audience, streamline your email campaigns, and maintain a clean and engaged subscriber base.
Analytics are crucial for optimizing the effectiveness of your campaigns. However, analyzing key performance indicators (KPIs) can be time-consuming and demanding.
To simplify the process, the plugin provides 'Email Summaries', a weekly report sent to the admin email address.
This report provides a concise overview of essential metrics, including contact growth, the number of subscribers or unsubscribes, sent emails, click rate, and open rate.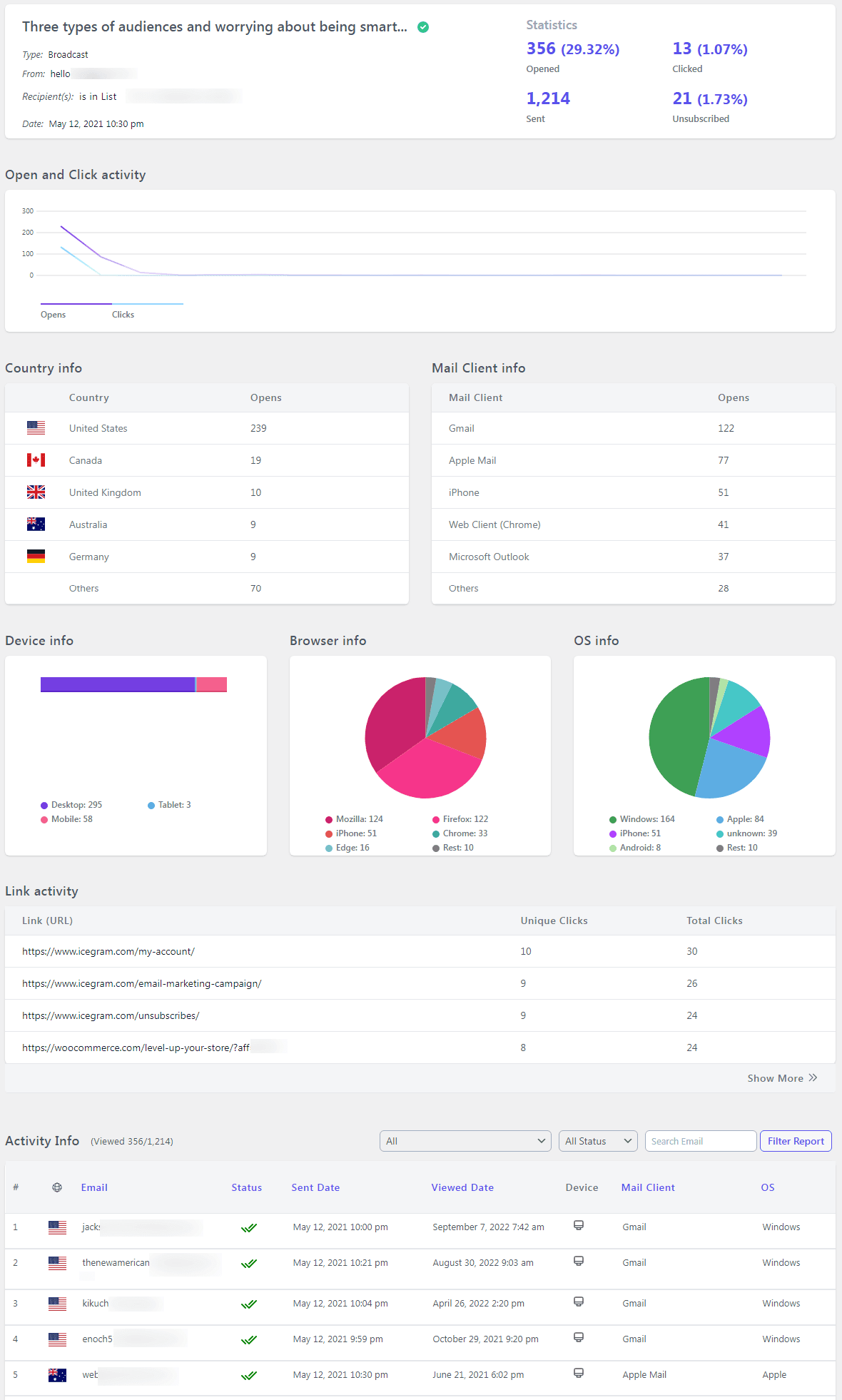 However, you can also log in to your WordPress dashboard and get more insights about your campaign performance.
You can select from three plans:
The features vary as per the plan. But with the price you pay for a year for Icegram Express, you would end up spending the same amount or more per month with other plugins.
You'll agree that it is affordable, saving you hundreds of dollars.
Amp up your WordPress email marketing game
Icegram Express is a feature-rich plugin that simplifies email marketing for WordPress users.
From subscription forms to autoresponders, list segmentation, and newsletter campaigns, the plugin has it all to build and engage with your email subscriber list effectively.
By leveraging the power of Icegram Express, you can connect with your audience, deliver valuable content, and drive conversions.